Details
Hardwood Flooring Maintenance
Let's talk hardwood flooring and Winter weather. Hardwood flooring is a beautiful addition to any home and is durable and long lasting. With that being said, let's get into proper care for hardwood flooring during the winter months in cold climates.
When the weather turns cold and your home is closed up for the winter (windows closed and furnace is running) the air inside your home will dry out. The drier the air, the less humidity. When the humidity drops, your hardwood flooring will lose moisture. When your hardwood flooring loses moisture is starts to shrink.
When hardwood flooring starts to shrink it will contract, possibly causing gaps that will form between planks.
Low relative humidity in homes is bad for any hardwood flooring. Ideally, the home is humidified during the winter months and de-humidified during the summer months. Hardwood flooring does best when the relative humidity is stable between 45 and 55 degrees. When the home is maintained at 45 to 55 degrees relative humidity, then the hardwood flooring itself will maintain it's intended dimensions and minimize gapping due to expansion and contraction.
Wider planks made with solid hardwood flooring are the most susceptible to changes in humidity levels.
Engineered hardwood flooring, being made with quarter turned plys of wood, are much more dimensionally stable than solid hardwoods so inside humidity levels are not as critical.
The most important thing you can do to maintain your solid hardwood flooring is to keep your relative humidity at 45 degrees or above. Have a whole house humidifier in your home to regulate your humidity levels during winter months. You can also add a single room humidifier in the rooms with hardwood to supplement your whole house humidifier.
If you see gapping in your hardwood flooring or cracking in your finish, low humidity levels will probably be the cause. Keep your humidity levels up during winter months and you will keep your hardwood flooring happy!
Call today for your in home consultation. 248-505-4648
Details
Woodmore Engineered Hardwood Flooring On Sale!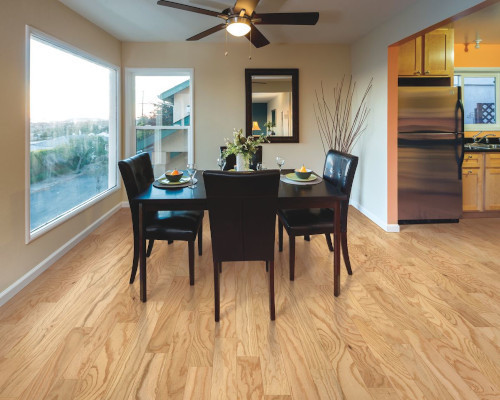 Dover Floor Covering is offering this wide width, engineered hardwood flooring from Mohawk Industries for a very special price through the month of October, 2019. $2.88 per sq ft*. Woodmore engineered hardwood flooring comes in 8 colors, features eased edges and is offered in 2 different widths. 3" and 5" wide planks. This engineered hardwood flooring can be installed above or below grade.
This quality engineered hardwood flooring must be purchased with installation. Dover Floor Covering can bring out samples of this hardwood to your home so you can see it with your own decor and in your lighting. We will measure and inspect your current flooring to make sure that you make the right selection. We will check for clearances, joist direction and other factors that may impact the hardwood floor installation.
This is an engineered hardwood flooring and being engineered it has advantages over solid hardwood flooring. Engineered flooring comes in 3 to 9 plys that are glued together in a cross grain pattern. When constructed with the cross grain pattern it adds substantial stability which will greatly restrict expansion and contraction. Because each layer has it's grain turned 90 degrees, engineered hardwood flooring becomes very dimensionally stable. Which is important in Michigan.
Woodmore Engineered Hardwood Flooring
Call today for your in home consultation. 248-505-4648
* $2.99 per sq. ft picing is for 3" wide planks and must be purchased with expert installation.